PERMIT CHANGES
ACT NOW TO OPPOSE CHARGES FOR MOTORCYCLES – DEADLINE 6th JULY
View and respond here:
It's not clear if the charges apply to motorcycles, this is an underhand attempt to bring in charges without proper consultation
Motorcycles are part of the solution to air quality and climate change, and their use should be incentivised
These charges would just encourage riders to use a car instead of their bike
Motorcycles take up far less space than cars and if there must be parking charges they should fairly reflect this
Email save.london[email protected] for more details and guidance
Hackney Motorcycle Parking
Free motorcycle parking outside of Zone B:
Solo motorcycle bays
Resident Permit bays
Shared use bays
General permit bays
Free motorcycle parking in Zone B: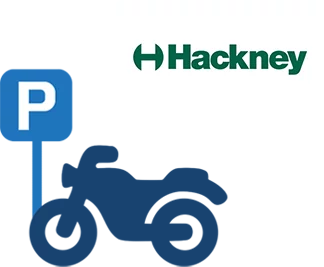 Hackney Parking Rules
Motorcycle and moped parking is free outside of Zone B in resident permit, business permit, shared use (combined pay and display and permit holders) and general permit bays. You do not need to purchase a permit or voucher to park in one of these bays.
Inside Zone B, free motorcycle parking is only available in solo bays.
Motorcycles and mopeds cannot be parked in pay and display only and disabled bays.
The borough of Hackney covers scooter and motorbike bays in Dalston, Hackney, Hackney Central, Hackney Marshes, Hackney Wick, Haggerston, Homerton, Hoxton, Lea Bridge, Lower Clapton, Manor House, Shacklewell, Shoreditch, South Hackney, Stamford Hill, Stoke Newington, Upper Clapton and West Hackney.